FROM THE ARCHIVES -- The Adventures of Captain Fishsticks
Posted by Craig Westover
| 2:43 PM |
Posted on Sun, Jan. 05, 2003
Island getaway still a chance to kick back, tell lies with the locals
CRAIG WESTOVER
Community Columnist
I was drinking beer with a fellow expatriate-for-two-weeks at Captain Jack's, a harbor's edge watering hole in Hope Town on Elbow Cay in the Bahamas.
"How many years you been coming down here, Willie?" I asked.
Willie turned to one of the locals at a nearby table. "Ay, Maitland," he called in his Boston accent. "How big was that hammerhead we got out by Lubber's Cay?"
" 'Bout t'elve fe't," came the Bahamian's reply.
"Eight years," answered Willie, finishing off his beer. "First year I was here, Maitland and I caught this hammerhead shark. A little one — about 4 feet — but every year we add a foot. Makes a better story."
Willie called the barmaid, ordered another round of Kalik, and we joined the locals drinking beer and telling lies.
Picking up a little something for dinner
Today that hammerhead is approaching Jaws-like proportions; "Progress" is transforming this Minnesotan's winter retreat into Amity Island.
Elbow Cay is a tiny Bahamian island a goose-bumpy 55-minutes in a six-seat prop plane from Ft. Lauderdale. Twenty-five "feet" ago, Elbow Cay was home to a couple hundred local families and five surnames. Reflecting its settlers' heritage, Hope Town resembled a New England fishing village, its small wooden saltbox houses in varying states of surrender to the salt air.
Every house had a name. We've stayed in a number over the years — the most colorful was "Dickie's Little House," a converted barge that in a previous life had been a waterfront brothel, which bequeathed to its reincarnation red shag carpeting, an electric fireplace and a mirror over the bed.
It was more than a decade ago on the beach in front of Dickie's Little House that our kids landed a "15-foot" lemon shark. This snowman-skinned Minnesotan felt like Ernest Hemmingway. I filleted some steaks. I cut out the jaw. I'm writing about it.
For a traveler from Minnesota, Hope Town was refreshingly authentic — a living entity where "community" was a way of life, not an enforced concept. Anyone could be welcomed, but not everyone was. Respect was earned, not legislated. Holding one's liquor and lying with panache were social assets. The Golden Rule was a given.
Hope Town was a place where boys wanted to grow up to be like their daddies — and that was actually OK with the moms. The fathers were roguish fishermen and sea captains one generation removed from wrecking and smuggling, a heritage very much a part and a pride of the local people. Father really did know best — Robert Young with a rum and a tan.
Today, Hope Town draws more tourists than travelers. They roll in and out on the tide like flotsam and jetsam — nearly 1,200 washing ashore in peak season.
Every visitor is warmly greeted at the docks by those once aspiring sea captains and fishermen who rent freshly painted tourist houses (with phones and satellite TV), manage restaurants and bars, dive shops and gift shops, or run out an occasional fishing charter (but only when the weather is fair). Their sons are off at college in the States, pursuing opportunities their fathers never had.
I miss the old Hope Town — but nostalgia is the price of progress and not always a bad investment.
The fishnet of circumstances we call "progress" enables today's islanders to live in far more security and physical comfort than imagined by even one generation past. For casual tourists with a low tolerance for surprise, progress provides a taste of island life, albeit less Hemmingway and more Sunday supplement.
As for me, well... I'm a little more Sunday supplement too.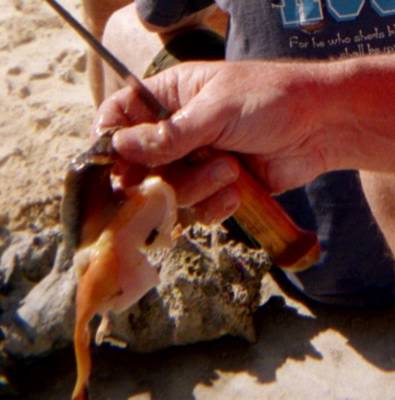 Yes, this will make some mighty fine eatin'
I don't spear fish and lobster or dive for conch as well as I once did, nor half as well as my teenage son does, but youthful hubris has been replaced by a fatherly pride watching him dive. The conch are not as big as they once were, but it's not the size of your conch that counts, but whether or not you still enjoy diving.
I no longer press up and over the side into a boat — I swim to the stern and climb the ladder. I can afford both the indignity of the climb and the cost to rent a boat with a ladder.
For this aging traveler Hope Town is a metaphor on a myth. It's a testament to man's irrepressible drive to improve his lot, even in paradise — and yet, it's still a place where an old man can sit by the sea, drink a little beer and tell a few lies, and nostalgically "dream of young lions roaring on the beach."